River Alliance of CT > Priority Topics > Streamflow > Streamflow and Groundwater Overview in CT
CT Conditions At A Glance
(Click on any graphic below for more information)
Streamflow in CT Now
(click map to go to the data page)
High Flow Low Flow Not Ranked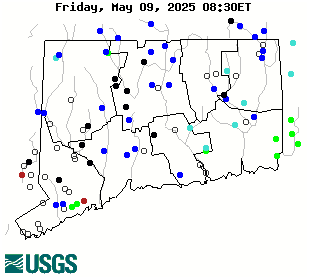 Recent Flow At a CT Stream
(click graph for details)
Groundwater Level
(click graph to see more well data)

Check your forecast here
(click map to go to state weather page)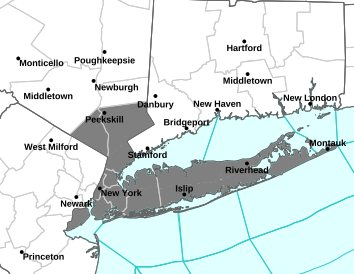 Graphic courtesy NOAA showing CT area watches and warnings if any.
Summary
Streamflow dropped quickly after the deluge; "stealth drought" still a concern. By Jan 18, 34 of the state's 61 stream gages had already dropped to below-normal or near-normal levels. Groundwater monitoring wells were indicating mostly near-normal or above-normal water tables.
In spite of the heavy rain last weekend that brought floods and ice jams to many rivers, the U.S. Drought Monitor rated the western 29% of Connecticut "Abnormally Dry" for the the third week based on Jan 16 data. This is up from 21% in December. The rest of the state is rated "No Drought." All of CT had been rated "No Drought" since the end of October until the Drought Monitor's Dec 5 analysis. Their Drought Summary for the Northeast U.S. on Jan 18 explained:
"With the mix of rain falling on top of snow and frozen soils, the impact of the precipitation is hard to assess, but there was some response to streamflow conditions. No changes to the drought status were made this week and several reports indicated that without more precipitation in the region, conditions will worsen."
That continues what they noted Dec 14:
"Continuing a pattern over the past few months, much of the Mid-Atlantic into southern New England had below-average precipitation, in many places less than 50% of what is typically received in the given period."
The pattern they refer to was described Dec 7:
"... the Northeast experienced its 4th warmest autumn on record. On this week's map, changes occurred in ... northwestern Connecticut, ... where precipitation has been below normal for the past 30 days leading to degradation in soil moisture conditions and streamflow levels in these areas. According to the USGS, numerous creeks and rivers have dipped below the 20th percentile range - leading to expansion of areas of Abnormally Dry (D0). From a longer-term perspective looking at the 24-month precipitation deficits in the region, 8-to-20+ inch deficits exist in southeastern New York, Connecticut, and portions of Massachusetts."
Streamflow Discussion
Go to the Northeast River Forecast Center for flood probabilities at the gaging stations they monitor.
In spite of the deluge January 13-14 that brought floods and ice jams to many rivers, by Jan 18 the flow at just over half of the stream gages in CT had already dropped to near-normal or below-normal rates for the time of year. On Jan 18, out of the 61 USGS stream gages in Connecticut, 27 were still at relatively high flows, while 8 were reporting low flows*, 3 of those setting low flow records (see table below).
Here are the numbers from previous weeks:
Jan 11: 44 of the 61 USGS stream gages in CT were reporting low flows*, 2 were reporting higher than normal.
Jan 2: 19 of the 20 USGS stream gages not iced up were reporting low flows, four of them setting records. 41 could not report flow due to ice.
Dec 21: 32 out of 61 stream gages were reporting low flow (2 were setting records).
Dec 12: 30 out of 61 stream gages (1 was setting low-flow records).
Dec 5: 38 out of 61 stream gages (1 was setting low-flow records).

*We define low flow as below the 25th percentile for that stream, or below 25% of the mean flow for that stream for the date from the USGS data file at https://waterwatch.usgs.gov/webservices/realtime?region=ct&format=xml at a time when rivers are near their lowest points between storms.
Click here for today's USGS Connecticut stream gage web page with graphs of flow from every gage for the past 30 days compared to their historic daily flows,
or
Click here for a list of all CT stream gages comparing their flow right now to their mean and median flows for today's date.
or
Click here for a discussion from an archived Know Your Flow! web page of what streamflow patterns usually look like.
Why do we count? The flow between storms is an indicator of stream conditions. When water levels are low, portions of the streambed become too dry to support the aquatic life that usually colonizes those areas. Groundwater seeping from the stream banks can help organisms survive for short times; therefore, well measurements can also be used to identify areas where aquatic life might be in jeopardy.
A count of the number of USGS stream gages reporting low flow at their lowest point between storms is valuable as an indicator of conditions statewide. If the number of streams that reach low levels between storms is increasing over time, it raises concern for the recovery of stream ecosystems from dry conditions. If the count decreases, we can look for recovery. If most of the low-flow gages are in the same area of the state, it could indicate a regional problem. We also note any record low flows for the date (see Sep 14 discussion).
Brief high water, even flooding, caused by sporadic heavy rain does little to alleviate long-term effects of dry conditions, because it takes time for ecosystems to recolonize streambeds after a drought has killed off aquatic organisms. Direct observation of any particular segment of stream is necessary to determine actual streambed conditions, because there are only 61 stream gages in Connecticut and the conditions they report may not represent the conditions in the hundreds of streams with no gages.
Public Water Supply Information
Your water utility and town web pages are the best sources of information on any water use restrictions that may apply specifically to you.
UConn declared a Stage IA Water Conservation Alert because seasonally dry conditions have reduced area stream flows. As of Jan 2, the alert was still posted on their website.
As reported by the November DPH Monthly Reservoir Status Summary issued Dec 19, the reservoirs of 34 large water companies averaged just over their normal 84% full at the end of November, so DPH reported they were at 103% of normal for the time of year statewide. There is a wide disparity, however, across the state. The lowest reservoirs were Aquarion Water Co. of CT‐Greenwich System at 45 Percent Usable Storage (67% of normal) and South Norwalk Electric & Water at 48 Percent Usable Storage (also 67% of normal). In all there were 5 systems reporting more than 10% below normal. The highest reservoirs were in the 8 systems that were at 100 Percent Usable Storage. Compared to where they usually are in December, 9 systems were more than 10% above normal.
In the DPH Summary, Norwich Public Utilities reported they had a "Water Supply Advisory" at the end of November, and South Norwalk Electric & Water reported "Drought Advisory ‐ Voluntary 10% Restrictions." On Dec 21 there was nothing on either company's website or Facebook page about it, nor did the municipal websites have any information.
On Oct 18, the Town of Greenwich and Aquarion Water asked for immediate, voluntary water use reduction of 10% in Greenwich, Stamford, Darien, and New Canaan. As of Dec 12, their request to end irrigation for the season was still on their website.
Aquarion maintains on its website a weekly updated water usage report that includes water demand graphs, system transfers, system capacities, days usable storage remaining, and precipitation.
Groundwater Discussion
In Connecticut, the USGS has 10 real-time groundwater monitoring wells. 8 of these have multiyear records. All wells showed the sharp rise in the water table expected from the long duration of the rain on Jan 13-14. On Jan 18, 6 of the 8 monitoring wells were near or above normal for the time of year, up from 4 near normal a week earlier. 2 of the 8 wells are still below normal, with 1 of them, in Greenwich, setting low water table records for the date. Click here to see their current status.
The USGS Groundwater Watch website displays data from 60 other wells that are measured once a month, comparing the most recent measurements to each well's measurements taken in that month in previous years. At the end of December, 40 of the 60 wells were near or above normal compared to 54 at the end of November and 46 wells near normal at the end of October.
Monitoring the water table can provide clues to future conditions. There was an apparent pattern in 2013-2016 in which normal groundwater levels in winter and spring alternated with increasingly well-below-average levels in summer and fall. Although 2017 groundwater levels did get as far below average as they did in 2014 or 2015, they did not drop as fast as in 2016. Click here to see all the USGS graphs for their real-time groundwater measurements that compare levels from the last four years to the median level for each day of the year (lots of data, so it takes a long time to load).
Groundwater levels influence streamflow. The water level in streams and rivers between storms depends on the flow of water out of the ground into the stream channel. The higher the water table, the more water is available to keep streams flowing. During a drought, smaller upland streams dry up faster than the larger rivers (click here for details from a previous Know Your Flow! webpage). An occasional brief, powerful rainstorm does not do much to help groundwater levels rise. The rain falls faster than the ground can absorb, and thus much of it becomes stormwater runoff. In contrast, public water supply systems that depend on reservoirs do benefit from heavy rains because the reservoirs collect the runoff. The runoff, however, can wash pollutants into the reservoirs, lowering water quality.
Precipitation Patterns
On Jan 18 the National Weather Service (NWS) Advanced Hydrologic Prediction Service at this link was not displaying data accurately. Here is our analysis from before the heavy rain and snowmelt of Jan 13-14:
As of Jan 11, about three-quarters of CT had seen less than 50% of normal 30-day precipitation.
A persistent pattern of storms tracking out to sea or to the northwest of us had resulted in 60-day precipitation totals less than 50% of normal for about half of Connecticut, from 50% to 75% of normal for the rest. Go to the National Weather Service (NWS) Advanced Hydrologic Prediction Service at this link for updated, detailed maps and data.
On Thursday, Jan 18, the National Weather Service 7-day forecasts in Connecticut were again predicting some rain. However, a long-range (16-day) computer model on Jan 18 was showing most precipitation missing us until a major rain storm in early February suddenly breaks that pattern.
Each month, the NWS Climate Prediction Center issues analyses of global atmospheric conditions that could influence general temperature and precipitation patterns. Their January 18, 2018 prognostications for the the next year show equal chances for above-normal, normal, and below-normal precipitation until May or June when they give elevated chances for above-normal rainfall during the summer. Above-normal temperatures are more likely than normal temperatures for most of the next year. Interestingly, they predict higher chances for above-normal precipitation just to our north for February. These predicted trends are essentially the same as they predicted over the previous couple months.
The Jan 18 release of the monthly U.S. Seasonal Drought Outlook from the National Weather Service Climate Prediction Center indicated no drought likely for Connecticut through April.