River Alliance of CT > Priority Topics > Streamflow > Streamflow and Groundwater Overview in CT
CT Conditions At A Glance
(Click on any graphic below for more information)
Streamflow in CT Now
(click map to go to the data page)
High Flow Low Flow Not Ranked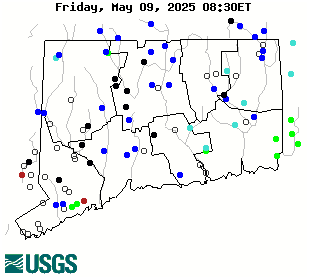 Recent Flow At a Typical CT Stream
(click graph for details)
Groundwater Level
(click graph to see more well data)

Check your forecast here
(click map to go to state weather page)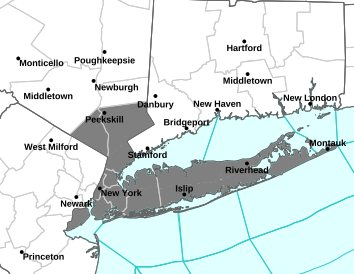 Graphic courtesy NOAA showing CT area watches and warnings if any.
Summary
As of Sep 14, 30-day rainfall totals were below normal for about two-thirds of Connecticut. the same areas have had below-normal 60-day totals. Only the northwest corner and some small areas along the shoreline were near or above normal (see Precipitation Patterns below for details). On Sep 14, 24 of 61 Connecticut stream gages were reporting low flows. The US Drought Monitor rated 18% of the state "Abnormally Dry" for a third week, based on Sep 11 data.
Groundwater level varies across the state, though most wells are near normal for this time of year.
The U.S. Drought Monitor rated 18% of the state "Abnormally Dry" on Sep 14, for the third week in a row. All of Connecticut had been rated "No Drought" since the end of May. Dry areas in the Northeast U.S. had been expanding since early June, but the Drought Monitor reported that most of the northeast was now unchanged from previous weeks, with the driest areas shrinking.
According to the Aug 17 release of the monthly U.S. Seasonal Drought Outlook from the National Weather Service Climate Prediction Center, predicted changes in persistent weather patterns might end the drying trend this month. However, in their discussion of how they made that prediction, they emphasize: "Confidence is low for the Northeast region ..."
Streamflow Discussion
Watch out for flash flooding if Jose comes our way!
24 out of 61 stream gages were reporting lower than normal baseflow conditions on Sep 14. In general, between-storm streamflow across the state has been dropping to low levels since since the middle of August because rain has been fairly localized along persistent storm paths, causing some rivers and streams to peak while not affecting others. If a tropical storm comes our way and floods rivers and streams in southeast Connecticut but provides limited rainfall for the rest of the state, it will be following the same pattern. If rainfall is heavy across the state, it may indicate and end to the pattern of persistence.
See below for a discussion of what common streamflow patterns look like.
Lowest Baseflow Gaged Streams and Rivers
24 of 61 stream gages were reporting low flows (list with links is below) on Sep 14, compared to only 3 a week earlier. Two weeks earlier, on Aug 31, over half of the USGS stream gages in Connecticut were reporting low flows*, the first time the count was over 50% since February as the drought was ending. The count of low-flow gages reached 25% in the middle of August, after varying from none to 20% since April. At the height of last year's drought, most stream gages reported low-flow conditions week after week.
On Sep 7, 39 of 60 Connecticut stream gages were reporting high flows, but on Sep 14, no gages were above their 75% percentile.
Why do we count? The flow between storms is an indicator of stream conditions. When water levels are low, portions of the streambed become too dry to support the aquatic life that usually colonizes those areas. Groundwater seeping from the stream banks can help organisms survive for short times; therefore, well measurements can also be used to identify areas where aquatic life might be in jeopardy.
A count of the number of USGS stream gages reporting low flow at their lowest point between storms is valuable as an indicator of conditions statewide. If the number of streams that reach low levels between storms is increasing over time, it raises concern for the recovery of stream ecosystems from dry conditions. If the count decreases, we can look for recovery. If most of the low-flow gages are in the same area of the state, it could indicate a regional problem.
Brief high water, even flooding, caused by sporadic heavy rain does little to alleviate long-term effects of dry conditions because it takes time for ecosystems to recolonize streambeds after a drought has killed off aquatic organisms. Direct observation of any particular segment of stream is necessary to determine actual streambed conditions, because there are only 61 stream gages in Connecticut, and the conditions they report may not represent the conditions in the hundreds of streams with no gages.
Noting record low flows also gives an indication of potential drought recovery problems. On September 14, the Quinnipiac River at Southington stream gage was reporting that its 9:45AM flow of 4.28 cubic feet per second (cfm) was lower than the lowest daily mean flow for all September 14 records from the past 28 years. Its record low daily mean of 4.62 cfm was in 2005. If this year's low flow continues all day, a new lowest daily mean flow will be recorded for Sep 14. Looking at when record low daily mean flows occurred can provide a clue to changing climate. Altogether, 20 of 52 stream gages in or near CT with at least 25 years of record set low-flow records for the date in the last 15 years, 8 of them in 2016. The other 32 stream gages set their low-flow daily mean records in 15 different years spanning 83 years, from 1913 to 1996.
Out of 61 USGS CT stream gages, 24 gages reported low flows* September 14 (see table below). 13 were below their 25th percentile, 16 were below 25% of their mean flow for the date.
Here are the numbers from previous weeks:
Sep 7: 3 gages out of 60 reported low flows
Aug 31: 31 gages out of 60
Aug 24: 15
Aug 18: 16

Stream Gages Reporting Low Flow* Thursday, Sept. 14, 2017
Below
25th percentile,
25% of mean,
or both
Station Name
Station Website URL
m
ASPETUCK RIVER AT ASPETUCK, CT
https://waterdata.usgs.gov/ct/nwis/uv?site_no=01209105
mp
BUNNELL BROOK NEAR BURLINGTON, CT
https://waterdata.usgs.gov/ct/nwis/uv?site_no=01188000
p
FARMINGTON RIVER AT TARIFFVILLE, CT
https://waterdata.usgs.gov/ct/nwis/uv?site_no=01189995
p
FARMINGTON RIVER AT UNIONVILLE, CT
https://waterdata.usgs.gov/ct/nwis/uv?site_no=01188090
m
FIVEMILE RIVER NEAR NEW CANAAN, CT
https://waterdata.usgs.gov/ct/nwis/uv?site_no=01209761
m
FRENCH RIVER AT NORTH GROSVENORDALE, CT
https://waterdata.usgs.gov/ct/nwis/uv?site_no=01125100
p
HOCKANUM RIVER NEAR EAST HARTFORD, CT
https://waterdata.usgs.gov/ct/nwis/uv?site_no=01192500
mp
HUBBARD RIVER NEAR WEST HARTLAND, CT
https://waterdata.usgs.gov/ct/nwis/uv?site_no=01187300
m
MUDDY RIVER NEAR EAST WALLINGFORD, CT
https://waterdata.usgs.gov/ct/nwis/uv?site_no=01196561
p
NAUGATUCK RIVER AT BEACON FALLS, CT
https://waterdata.usgs.gov/ct/nwis/uv?site_no=01208500
mp
NONEWAUG RIVER AT MINORTOWN, CT
https://waterdata.usgs.gov/ct/nwis/uv?site_no=01203600
m
NORWALK RIVER AT SOUTH WILTON, CT
https://waterdata.usgs.gov/ct/nwis/uv?site_no=01209700
m
PENDELTON HILL BROOK NEAR CLARKS FALLS, CT
https://waterdata.usgs.gov/ct/nwis/uv?site_no=01118300
m
POOTATUCK RIVER AT BERKSHIRE
https://waterdata.usgs.gov/ct/nwis/uv?site_no=012035055
mp
POOTATUCK RIVER AT SANDY HOOK, CT
https://waterdata.usgs.gov/ct/nwis/uv?site_no=01203510
p
QUINNIPIAC RIVER AT SOUTHINGTON, CT
(flow lower than any daily average over 28 years of record)
https://waterdata.usgs.gov/ct/nwis/uv?site_no=01195490
p
RIDGEFIELD BROOK AT SHIELDS LANE NR RIDGEFIELD, CT
https://waterdata.usgs.gov/ct/nwis/uv?site_no=012095493
m
RIPPOWAM RIVER AT STAMFORD, CT.
https://waterdata.usgs.gov/ct/nwis/uv?site_no=01209901
m
SASCO BROOK NEAR SOUTHPORT, CT
https://waterdata.usgs.gov/ct/nwis/uv?site_no=01208950
p
SAUGATUCK R BELOW SAUGATUCK RES NR LYONS PLAIN, CT
https://waterdata.usgs.gov/ct/nwis/uv?site_no=01209005
m
SAUGATUCK RIVER NEAR REDDING, CT
https://waterdata.usgs.gov/ct/nwis/uv?site_no=01208990
mp
SAUGATUCK RIVER NEAR WESTPORT, CT
https://waterdata.usgs.gov/ct/nwis/uv?site_no=01209500
m
WEEKEEPEEMEE RIVER AT HOTCHKISSVILLE, CT
https://waterdata.usgs.gov/ct/nwis/uv?site_no=01203805
p
YANTIC RIVER AT YANTIC, CT
https://waterdata.usgs.gov/ct/nwis/uv?site_no=01127500
*We define low flow as below the 25th percentile for that stream, or below 25% of the mean flow for that stream for the date from the USGS data file at https://waterwatch.usgs.gov/webservices/realtime?region=ct&format=xml at a time when rivers are near their lowest points between storms.
Click here for a list of all CT stream gages comparing their flow right now to their mean and median flows for today's date.
The Pequabuck River gage in Forestville returned to the live-data file on September 14, 2017. Until June 30, 2017, there were 62 gages total, but 2 gages lost funding from the town that was helping to pay for them. As a result, data collection at these 2 gages was discontinued on June 30, 2017. Although historic data will remain accessible, no new data will be collected unless one or more new funding partners are found. Users who can contribute funding for the non-federal share of costs to continue operation of the stream gages for Rooster River at Fairfield (39 years of records) and Mill River near Fairfield (44 years of records) should contact Jon Morrison at the USGS New England Water Science Center - Connecticut Office (860-291-6761) or email at jmorriso@usgs.gov. The Pequabuck River gage in Forestville returned to the live-data file on September 14, 2017.
Public Water Supply Information
Your water utility and town web pages are the best sources of information on any water use restrictions that may apply specifically to you. The CT Department of Public Health (DPH) has a Reservoir Data monthly web page.
As reported by the July DPH Monthly Reservoir Status Summary (issued Aug 14), the reservoirs of 34 large water companies are normally 89% full in July. This year, they were at 93% at the end of July, so DPH is reporting the state water supply is at 104% of normal for the time of year. Interestingly, the Manchester Water Department reported being 104.62% full at the end of July. As of August 27, the Manchester website reported: "... the Water Department's reservoirs are at 96.5% percent capacity".
Back at the end of June, statewide capacity was at 97% of full.
Aquarion Water Company's website reports: "Aquarion is now making its current mandatory restrictions on sprinkler irrigation part of our permanent water conservation program." The restriction is on the use of sprinklers to two days a week before 10 a.m. or after 6 p.m. for its customers in Darien, Greenwich, New Canaan, and Stamford. Aquarion's website has links to where customers can report a violator or request a variance.
The Town of Greenwich has adopted the same restrictions. The town website has more details and an application for variances for properties serviced by private wells.
Aquarion maintains on its website a weekly updated water usage report that includes water demand graphs, system transfers, system capacities, days usable storage remaining, and precipitation. They note that as of September 11 their reservoirs were where they usually are at this time of year, significantly higher than they were last year. In spite of this, their days usable storage remaining was a little below their five-year average, but not as far below as they were in August.
Groundwater Discussion
In general, well measurements across the state are mostly near normal. Groundwater levels normally fall at this time of year, so measurements have to be compared to averages for the time period to determine if a particular measurement is normal.
In Connecticut, the USGS has 7 real-time groundwater monitoring wells with multiyear records. On Sep 15, all 7 were near-normal for the date, the same as a week earlier. In previous weeks, some of these wells were above normal. There are 2 other wells that began reporting live data last year. All 9 wells continue to show a falling water table as is expected at this time of year.
The USGS Groundwater Watch website displays data from 60 other wells that are measured once a month, comparing the most recent measurement to each well's monthly records. More wells reported normal levels, because there were fewer wells reporting above-normal water tables in August than in July but the same number reporting below normal levels. Measurements taken Aug 24 - 28 reported:
6 of the 60 wells were much above normal for August (there were 10 much above normal in July)
5 were above normal (13 in July)
45 were near normal (32 in July)
3 were below normal (4 in July)
1 was much below normal (0 in July)
Groundwater levels influence streamflow. The water level in streams and rivers between storms depends on the flow of water out of the ground into the stream channel. The higher the water table, the more water is available to keep streams flowing. During a drought, smaller upland streams dry up faster than the larger rivers (details below). An occasional brief, powerful rainstorm does not do much to help groundwater levels rise. The rain falls faster than the ground can absorb, and thus much of it becomes stormwater runoff. In contrast, public water supply systems that depend on reservoirs do benefit from heavy rains because the reservoirs collect the runoff. The runoff, however, can wash pollutants into the reservoirs, lowering water quality.
Monitoring the water table can provide clues to future conditions. There was an apparent pattern in 2013-2016 in which normal groundwater levels in winter and spring alternated with increasingly well-below-average levels in summer and fall. Click here to see all the USGS graphs for their real-time groundwater measurements that compare levels from the last four years to the median level for each day of the year (lots of data, so it takes a long time to load). USGS manually measures 60 other wells in Connecticut once a month or so, with the data reported on their USGS Groundwater Watch website. Examination of those records verified the possibility that this pattern may have applied to all our groundwater.
Precipitation Patterns
Connecticut usually gets 3 to 5 inches of rain in September. As of Aug 16, roughly two-thirds of the state received under 3 inches of rainfall in the past 30 days. An area along a roughly diagonal line from southwest to northeast CT has seen less than half what is normal for this time of year. This is especially concerning because the same parts of the state are below normal for 60-day totals also. Only the northwest corner and small areas along the shoreline have seen 30-day totals near or above normal for both 30 and 60-day totals. Go to the National Weather Service (NWS) Advanced Hydrologic Prediction Service at this link for updated, detailed maps and data.
Rain Ahead?
On Sep 18, all rainfall forecasts included caveats regarding storm Jose's widely varying track predictions, and Maria may also come our way.
All current weather warnings across Connecticut are at https://alerts.weather.gov/cap/ct.php?x=1
According to http://www.nhc.noaa.gov/ (as of 1:00pm Monday), the chance of tropical storm winds and rain ranges from 20% in northwest CT to 50% in southeast Connecticut. The tropical storm force winds could begin as early as Tuesday morning but most likely would start the in the middle of Tuesday night.
Rain like we have not seen in a long time will be flash flooding roads, bridges, streams, rivers. Turn Around! Don't Drown!
Sustained winds of 40 mph with higher gusts is serious weather. Tree limbs will be falling, whole trees will be coming down. Loose lawn furniture, power lines and poles will be flying around.
As of Monday afternoon, ALL the coastal areas of the state were under a Tropical Storm Watch and Rhode Island coastal counties were under a tropical Storm Warning. Everyone in southern New Haven, southern Fairfield and all of Middlesex and New London counties should read the Hurricane Local Statement at https://alerts.weather.gov/cap/wwacapget.php…
The historic routes of tropical storms mostly bring them southeast of us, but its important to note we have had September tropical storms that have tracked over us from every direction. Current National Weather Service seven-day forecasts can be found here. Long-range (16-day) computer models, while useful when considering possibilities, have been less useful for actually predicting streamflow.
Each month, the NWS Climate Prediction Center issues analyses of global atmospheric conditions that could influence general temperature and precipitation patterns. Their Aug 17 prognostications for the next year show a small chance for above-normal rainfall in September but then equal chances for above-normal, normal, and below-normal precipitation until next summer. Above-normal temperatures are more likely than normal temperatures for most of the next year.
Streamflow Graphs and Storms
The bottom graph to the right illustrates what can be considered an average pattern of streamflow over time, for example, a month -- streamflow peaks above its average for the time of year but then drops to below average. Streams in nature maintain healthy flows between storms if the water table in the watershed of the stream is near or above average for the time of year.

How quickly the flow drops after each rainstorm, and how low it drops, is unique for each stream, because it depends on how much water ran off the surface compared to how much soaked in to increase groundwater levels. If the watershed of the stream has not received average long-term rainfall, the low water table will allow the flow between storms to drop to unusually low levels. In watersheds with lots of impervious roads, roofs, parking lots, patios, and compacted soil in lawns, a lot of the rain typically flows over the surface or through storm drains directly into the streams, leading to flooding problems far more often than in watersheds with mostly natural surfaces. The streamflow then drops quickly after the storm ends, and the flow levels off far lower than in streams whose watersheds have more natural surfaces.
How did the recent drought compare to historic droughts in Connecticut? The 1960s' drought was clearly the worst of the past century, but our recent drought may have been the second worst. The graph is from NOAA's National Environmental Satellite, Data, and Information Service (NESDIS), displaying the Palmer Hydrologic Drought Index (PHDI) for our state for the past century (click on it for a larger view in a new tab). Since groundwater and streamflow did not fully recover from the annual return of drought conditions, we can consider the drought as starting in 2010 or 2012. The overall length of time we had these intermittent drought conditions is comparable to the continuous drought of the 1960s. At times in 2016, the severity of the drought equaled the maximum severity in the 1960s. It is therefore fair to say the recent drought was one of the worst in 100 years. In November 2016, area weather forecasters were reporting that the drought was the worst since the 1960s.
Are small and large streams affected by dry conditions equally?
This graph plots the rate of flow on September 4, 2015, as a percentage of the median for each stream gage. For example, a dot at the 40% line means that stream that day was flowing at 40% of what could be considered normal for that date. The few rivers and streams flowing at or above 100% of their median rate are mostly those with flows managed by dam releases.
Counts of number of gages setting their record low flow for Sep 14 in various years. Note that 17 gages have under 25 years of record.
2016: 17
2015: 1
2012: 2
2010: 5

2007: 1
2005: 9
2002: 2
1996: 1
1995: 6
1988: 1
1986: 1
1980: 6
1966: 1
1965: 1
1962: 2
1958: 1
1957: 3
1947: 2
1943: 2
1932: 1
1930: 3
1913: 1