River Alliance of CT > Priority Topics > Streamflow > Streamflow and Groundwater in CT Overview
Current CT Conditions
At A Glance
(Click on any graphic below for more information)
Streamflow in CT Now
(click map to go to the data page)
High Flow Low Flow Not Ranked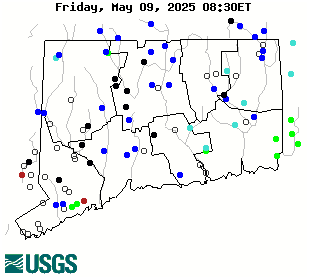 Recent Flow At a CT Stream
(click graph for details)
Groundwater Level
(click graph to see more well data)

Check your forecast here
(click map to go to state weather page)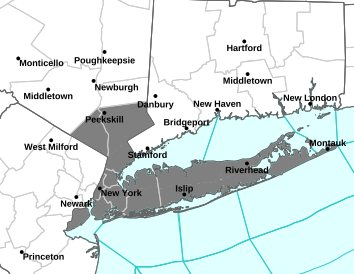 Graphic courtesy NOAA showing CT area watches and warnings if any.
The first threshold, Increased Awareness, has been reached between storms since July 5. The flow in the river dropped below the second threshold for short periods of time between storms since Aug 11. On Aug 14, the flow went below 15 cubic feet per second (CFS) and stayed there. Check the Pomperaug River Watershed Coalition website for updates.
---
Streamflow Discussion
Stream gages for the past few weeks have been spiking to high flows during thunderstorms, then dropping rapidly to near or below normal flows until the next spike.
On Aug 21, 16 out of 62 USGS stream gages in CT were at low-flow status. 4 of them were very low. The Naugatuck River in Beacon Falls was at a flow rate less than any recorded daily average flow over 90 years of record. This is an improvement over last week when 24 were low. Heavy rain later in the day Aug 21 should bring flows up temporarily. There was a much shorter time between recent storms so many rivers had not dropped back to low-flow status before spiking again on Aug 21.
With rain predicted again in a day or two, hopefully more rivers will stay at healthy levels. The forecast is for below-normal rainfall until around Labor Day when an atmospheric river may erase all traces of drought.
Before the recent storms that tracked over the dry western areas of the state, there was a remarkably sharp contrast between western CT and the rest of the state's 30-day percent of normal rainfall totals, as shown on the map to the right. You could go from areas with as low as half of normal precipitation to areas with double or more of normal by driving just 20 or 30 miles.
Although 60-day rainfall was still 50% to 75% of normal for most of western CT early on Aug 21, the 30-day totals were near-normal for most of the state. See the section below on Precipitation Links for more information.
If most rain falls as heavy downpours so a larger than normal proportion of rainfall runs off, then groundwater replenishment will be even less than what is expected with 25% to 50% below normal rainfall. Reservoir levels are probably not as affected as groundwater-dependent water supplies because the reservoirs capture the runoff. See our previous Know Your Flow! report for more discussion about rainfall rates.
About ranking flows:
The USGS is careful to only rank stream gages with 30 or more years of record on their state map at https://waterdata.usgs.gov/ct/nwis/rt. This is why that map does not show the same number of low and very low rivers as we report here. For example, the Naugatuck was a bright red dot because it has 90 years of records, but the Still River Brookfield was an open dot because it only has 15 years of record.

We define low streamflow as below the 25th percentile or below 25% of the mean flow for that date, from all stream gages in the data file at https://waterwatch.usgs.gov/webservices/realtime?region=ct&format=xml when rivers are near their lowest points between storms. Very low is under the 10th percentile.
Why do we count?
The flow between storms is an indicator of long-term stream conditions. Although expansion of a river or stream channel onto its floodplain is a normal, natural occurrence, human interference can cause higher than normal and more frequent flooding. The higher the water level remaining in streams and rivers before a storm, the more likely there will be dangerous conditions, streambed scouring, and other detrimental effects of high water.
When water levels are low, portions of the streambed become too dry to support the aquatic life that usually colonizes those areas. Groundwater seeping from the stream banks can help organisms survive for short times; therefore, well measurements can also be used to identify areas where aquatic life might be in jeopardy.
Data Links
Click here for today's USGS Connecticut stream gage web page with graphs
of flow from every gage for the past 30 days compared to their historic daily flows.

Cick here for a list of all CT stream gages comparing their flow
right now to their mean and median flows for today's date.

Click here for a discussion from an archived Know Your Flow!
web page of what streamflow patterns usually look like.

Check for electronically reported sewage spills in the last three days.

---
The Aug 15 (Aug 13 data) US Drought Monitor map of the northeastern US showed 6% of the northeast United States as "Abnormally Dry". The Connecticut map shows 18% of the state in that condition, same as the previous week.
---
Groundwater Links
In Connecticut, the USGS has 10 real-time groundwater monitoring wells, six of which have records long enough to compare to other years. We should note however that none of the live-data wells with long records are in the part of western CT where the least rain has fallen recently. On Aug 16, all six were reporting near or above-normal water levels, the same as last week. Although water tables normally fall at this time of year, most wells are showing a more rapid lowering than usual.
The USGS Groundwater Watch website displays data from 57 other wells that are usually measured once a month, comparing the most recent measurements to each well's measurements taken in that month in previous years. Most measurements near the end of July were near or above normal for that month. 2 wells, in Waterbury, and Canaan, were below normal. A well in Burlington was below-normal though 2 nearby wells were at normal levels. One well, in Granby, was much below normal, but a nearby well was at normal levels for July.
Groundwater levels influence streamflow. The water level in streams and rivers between storms depends on the flow of water out of the ground into the stream channel. The higher the water table, the more water is available to keep streams flowing. High water tables keep streamflow from dropping very far or very fast between storms, so when the next storm hits, the runoff pushes streams to higher levels with more flooding.
---
Precipitation Links
On Wed Aug 21, the forecast for the next 7 days for the state's geographic center was for 0.5 to 1.5 inches of rain, if a couple a storm centers go directly over Connecticut. A long-range computer model on Aug 21 was prognosticating an additional 4 or 5 inches of rain for Connecticut around Labor Day. That deluge prediction is based on the formation of an atmospheric river (explanation below) pumping water vapor up the east coast of the United States. IA 16-day computer model shows a hurricane hitting Florida.
Normal August rainfall in Connecticut ranges from 3 to 5 inches across the state. As of Aug 16, some parts of the state (Hartford and West Hartford for example) have already gotten a month's worth of rain. Most of the state however has seen 1 or 2 inches, pretty much normal, but smaller areas have received as little as a half inch. Click here for this month so far.
Connecticut normal July rainfall ranges from 3 inches in southeast CT and along the shoreline up to 6 inches near the New York state border. July 2019 rainfall was nearly the complete opposite, with parts of the western side of the state getting a little as 2 inches, but some shoreline areas, saw 8 to over 10 inches in July.
Click here for updated rainfall for the last thirty days. The National Weather Service (NWS) Advanced Hydrologic Prediction Service at this link has updated, detailed maps and data about precipitation amounts for Connecticut at various time frames.
For technical information about past broad-scale weather patterns, see NOAA's National Centers for Environmental Information State of the Climate Synoptic Discussions.
The NWS Climate Prediction Center's 1- and 3-month prognostications give equal chances for normal or above average or below average precipitation through October, which basically means flip a coin.
---
There are rivers in the atmosphere?
"Atmospheric River" is not a term used often by weather forecasters in the eastern United States, but they are studied routinely on the west coast because they are often the primary event that ends drought periods. This term is used when water vapor and liquid water in clouds gets concentrated into moving layers of the atmosphere primarily along frontal boundaries. By adding up all the volume of all phases of water at every height and plotting its speed and direction, computers can create visualizations that show places in weather systems that have the greatest potential to rapidly deliver large amounts of water.
These rivers in the air do not always lead to heavy precipitation. The computer models sometimes show an atmospheric river passing right over the northeast leaving little, if any rainfall. Sometimes when an atmospheric river flowing up the east coast comes over Connecticut from south to north, the elevation change may trigger rapid cooling and condensation of the water vapor, leading to heavy rain.
The National Oceanic and Atmospheric Administration (NOAA) Atmospheric River Portal describes them as:
... relatively narrow regions in the atmosphere and are responsible for most of the horizontal transport of water vapor outside of the tropics. While ARs come in many shapes and sizes, those that contain the largest amounts of water vapor, the strongest winds, and stall over watersheds vulnerable to flooding, can create extreme rainfall and floods. These events can disrupt travel, induce mud slides, and cause catastrophic damage to life and property. However, not all ARs cause damage – most are weak, and simply provide beneficial rain or snow that is crucial to water supply.
Improved monitoring, observation-based process understanding and prediction of ARs provide the critical knowledge needed by flood control managers, water supply authorities, and reservoir operators to mitigate the risks of major flood events while being able to take advantage of these heavy rainfall events as drought busters.
Almost all atmospheric river forecasts, maps, studies and background information have to do with California events, but some information can be found that relates to us in Connecticut. The center of the atmospheric river universe is the Center For Western Weather and Water Extremes (CW3E) at the University of California's Scripps Institution of Oceanography. Their website has an overwhelming amount of information, computer model output, interactive features and scholarly research. It is difficult to find anything relating to anything east of the Rocky Mountains however. There do have sets of maps of North America model outputs that show large scale predictions for the east coast.
The most useful for us is the AR Forecasts tab that opens a page showing a map of the western United States. You have to drag the map to move it to the east coast. There is a slider to move to show three days of predictions. An atmospheric river would be where the map shows arrows on a narrow, brightly colored zone indicating heavy flow. Even if that flow comes over Connecticut, it may not necessarily mean heavy rainfall here. If it shows an atmospheric river flowing up the east coast that comes over Connecticut from south to north, the elevation change may trigger rapid cooling and condensation of the water vapor, leading to heavy rain.
---
Some General Flood and Heavy Rain Information
The Connecticut Department of Health website has a good guide called:

Flood predicting. Go to the Northeast River Forecast Center for flood probabilities at the gaging stations they monitor. On Nov 5 they were reporting minor flooding at four locations in the state. Click here for current CT weather watches and warnings, if any.

Paddling. Do not attempt to canoe or kayak on floodwaters; there are usually one or two fatalities per year. Our Connecticut Water Trails website and the webpages of the many paddler groups in the state all have good safety procedures.

Your sewage, your well. When a building is located in a floodplain, floodwaters can saturate and fill a leach field, often flushing out untreated sewage. Floodwater also can flow down into wells, introducing pollutants — such as sewage, soil, bugs, leaves, pesticides such as weed killer and insect poison, and even the dog droppings from the backyard — into the well.

Very important: Any well that was flooded should be pumped and flushed out thoroughly and the system sanitized or "shocked."

Heavy rainfall alone can cause sewage to get into waterways even if flooding does not happen.

You really do not want to be downstream when raw untreated human sewage is entering the water.

Please see our Sewage / Wastewater Treatment Priority Topic webpage
for more information about sewage spills in Connecticut.
---
Public Water Supply Information
Your water utility and town are the best sources of information on the status of your water supply. A few systems post their current capacities regularly on their websites. Aquarion maintains on its website a weekly updated water usage report for their systems in southwest CT. The report includes water demand graphs, system transfers, system capacities, days usable storage remaining, and precipitation.
The CT Department of Public Health's has a Monthly Reservoir Status Summary
---
... Discussion of persistent storm paths....
Maps of percent of normal precipitation across the eastern United States seem to show bands of above-normal precipitation, such as to our northwest over the Great Lakes and New York State. These bands may correspond to places where storms have repeatedly followed the same general paths because they were steered by unusually stable loops in the jet stream. Bands of dryness then, such as along the northeast seaboard, may be the result of normal rainfall getting diverted toward the persistently rain paths.
Links to stuck jet stream information, discussions:
A new study challenges the hypothesis that Arctic sea ice loss is driving a trend toward colder, snowier winters in the U.S. and parts of Asia.
Written By: Washington Post |
"... Some of this research relates to a well-publicized hypothesis that Arctic warming is leading to a "wavier" jet stream and more frequent stuck weather patterns. "
The huge northern ice sheet is in the middle of its second major melt event this year, a warning sign for the planet.
BY ALEJANDRA BORUNDA, National Geographic PUBLISHED
"... the reason, some scientists think, has to do with the jet stream, ... locking into place weather patterns on either side of it.... at least partly controlled by the difference in temperature between the equator and the Arctic. The Arctic has warmed much more rapidly than the rest of the planet ... and some scientists think that the result is a jet stream that is wavier and more sluggish than before. That means that weather patterns ... get stuck in place for longer ..."
Climate scientist Michael Mann discusses the increasing frequency and severity of heat waves, just as the US, Europe, and India are experiencing this Summer. TheRealNews.com, July 26, 2019
"We know that this phenomenon, the slowing of the jet stream, and it relates in fact to the warming of the Arctic, which changes temperature patterns in a way that slows down the jet stream and gives us more of these stuck weather patterns"
DemocracyNow! JULY 24, 2019\
"... temperature contrast between the cold Arctic and the warm subtropics is what drives the jet stream. So when you warm the Arctic more than the rest of the planet, you decrease that contrast. You slow down the jet stream. You get those very broad meanders in those stuck weather systems ... a high-pressure system sitting over Europe for day after day, or the eastern and central U.S. for day after day ... That's when you get these unprecedented heat events. And conversely, you get a low-pressure system, ... that's stuck over the same location day after day, you get unprecedented monsoonal rainfall."
Physics World, 14 May 2019
"Early summer heatwaves ... torrential rain and severe flooding ... events were linked by a pattern of stalled waves in the jet stream .... this wave pattern appears to have increased in frequency and persistence in recent years and may occur more frequently in the future due to climate change."
---
---
---
---