River Alliance of CT > Priority Topics > Streamflow > Streamflow and Groundwater in CT Overview
Current CT Conditions
At A Glance
(Click on any graphic below for more information)
Streamflow in CT Now
(click map to go to the data page)
High Flow Low Flow Not Ranked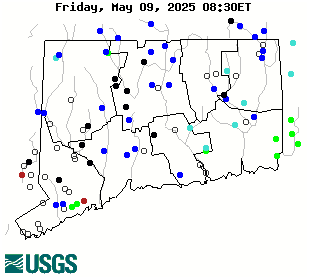 Recent Flow At a CT Stream
(click graph for details)
Groundwater Level
(click graph to see more well data)

Check your forecast here
(click map to go to state weather page)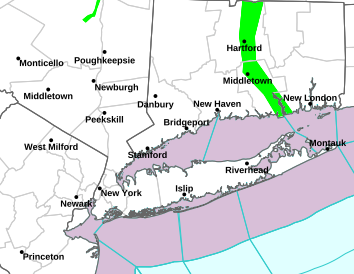 Graphic courtesy NOAA showing CT area watches and warnings if any.
Streamflow Discussion
With more rain than snow since the beginning of the year, it is no surprise to see graphs of streamflow across Connecticut above-normal or well-above-normal most of the time. Flow dropped to near or below-normal at most gaging stations January 11-25 when temperatures were below freezing, but rose again to above-normal flow with the rains after that. 16 of the 62 USGS stream gages in Connecticut were below normal on Jan 25, 2020
About ranking flows:
The USGS is careful to only rank stream gages with 30 or more years of record on their state map at https://waterdata.usgs.gov/ct/nwis/rt. This is why that map does not show the same number of low and very low rivers as we report here. We define low streamflow as below the 25th percentile or below 25% of the mean flow for that date, from all stream gages in the data file at https://waterwatch.usgs.gov/webservices/realtime?region=ct&format=xml when rivers are near their lowest points between storms. Very low is under the 10th percentile.
Why do we count?
The flow between storms is an indicator of long-term stream conditions. Although expansion of a river or stream channel onto its floodplain is a normal, natural occurrence, human interference can cause higher than normal and more frequent flooding. The higher the water level remaining in streams and rivers before a storm, the more likely there will be dangerous conditions, streambed scouring, and other detrimental effects of high water.
When water levels are low, portions of the streambed become too dry to support the aquatic life that usually colonizes those areas. Groundwater seeping from the stream banks can help organisms survive for short times; therefore, well measurements can also be used to identify areas where aquatic life might be in jeopardy.
Data Links
Click here for today's USGS Connecticut stream gage web page with graphs of flow from every gage for the past 30 days compared to their historic daily flows.

Cick here for a list of all CT stream gages comparing their flow
right now to their mean and median flows for today's date.

Click here for a discussion from an archived Know Your Flow!
web page of what streamflow patterns usually look like.

Check for electronically reported sewage spills in the last three days.

---
Groundwater Links
In Connecticut, the USGS has 10 real-time groundwater monitoring wells. Most wells reported above-normal water tables in Mid-December that fell or stayed almost the same through January and the first week of February 2020 at a time of year that usually sees rising groundwater levels. Wells were near or below-normal when 16 of the 62 USGS stream gages in Connecticut were below normal on Jan 25, 2020 but have rebounded since.
As a result of warm temperatures and rain instead of snow, on Feb 7,2020, 6 wells were near-normal and 4 were above-normal for the time of year.
The USGS Groundwater Watch website displays data from 57 other wells that are usually measured once a month, comparing the most recent measurements to each well's measurements taken in that month in previous years. Measurements taken January 23-28 show 37 of them near-normal, 14 above-normal, and 5 much above normal or even record setting high. The 1 well of the 57 with a January measurement below normal is lower than any measurement taken in January over 60 years of record. That measurement may be an error.
Groundwater levels influence streamflow. The water level in streams and rivers between storms depends on the flow of water out of the ground into the stream channel. The higher the water table, the more water is available to keep streams flowing. High water tables keep streamflow from dropping very far or very fast between storms, so when the next storm hits, the runoff pushes streams to higher levels with more flooding.
---
No abnormally dry areas reported in Connecticut since Oct 29, 2019.
---
Precipitation Links
A long-range computer model was prognosticating 0.75 to 1.5 inches of precipitation for the next two weeks. Normal February precipitation in Connecticut ranges from 2 to 4 inches across the state. Click here for this month so far.
Click here for precipitation for the last thirty days, compared to normal. The National Weather Service (NWS) Advanced Hydrologic Prediction Service at this link has updated, detailed maps and data about precipitation amounts for Connecticut at various time frames.
For technical information about past broad-scale weather patterns, see NOAA's National Centers for Environmental Information State of the Climate Synoptic Discussions.
The NWS Climate Prediction Center gives prognostications in various timeframes.
---
Some General Flood and Heavy Rain Information
The Connecticut Department of Health website has a good guide called:

Flood predicting. Go to the Northeast River Forecast Center for flood probabilities at the gaging stations they monitor. Click here for current CT weather watches and warnings, if any.

Paddling. Do not attempt to canoe or kayak on floodwaters; there are usually one or two fatalities per year. Our Connecticut Water Trails website and the webpages of the many paddler groups in the state all have good safety procedures.

Your sewage, your well. When a building is located in a floodplain, floodwaters can saturate and fill a leach field, often flushing out untreated sewage. Floodwater also can flow down into wells, introducing pollutants — such as sewage, soil, bugs, leaves, pesticides such as weed killer and insect poison, and even the dog droppings from the backyard — into the well.

Very important: Any well that was flooded should be pumped and flushed out thoroughly and the system sanitized or "shocked."

Heavy rainfall alone can cause sewage to get into waterways even if flooding does not happen.

You really do not want to be downstream when raw untreated human sewage is entering the water.

Please see our Sewage / Wastewater Treatment Priority Topic webpage
for more information about sewage spills in Connecticut.
---
Public Water Supply Information
Your water utility and town are the best sources of information on the status of your water supply. A few systems post their current capacities regularly on their websites. Aquarion maintains on its website a weekly updated water usage report for their systems in southwest CT. The report includes water demand graphs, system transfers, system capacities, days usable storage remaining, and precipitation.
The CT Department of Public Health's has a Monthly Reservoir Status Summary, but the most recent report is dated Nov 19, 2019
\
---